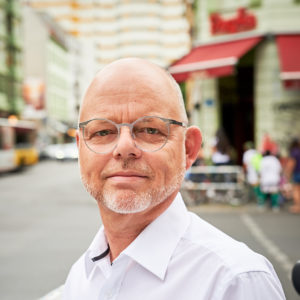 Holger Nauheimer is the founder and developer of the Change Days movement. He has hosted the Berlin Change Days for 10 years and helped to giving birth to the Toronto Change Days.
For 30 years, Holger has inspired the world of change management and organizational development. With hundreds of articles in the Internet, and countless training programmes for leaders around the world, he has had an impact on many change practitioners. Likewise, in his work with large multi-national companies and global NGOs, he has supported the development of leadership and collaboration skills.
Holger's philosophy and approach rests on strong shoulders: he studied with the masters. In particular, he takes his inspirations from Stephen Gilligan (Hypnotherapy and Trance), Robert Dilts (Generative Systems Work), Max Schupbach (Deep Democracy), Peggy Holman (Complexity), Juanita Brown, Marvin Weisbord and Sandra Janoff (Facilitation), David Cooperider (Positive Psychology), Harrison Owen (Open Space Technology) and many others. Based on these sources, he has developed a conversation model with which people can craft healthy and constructive work relationships.