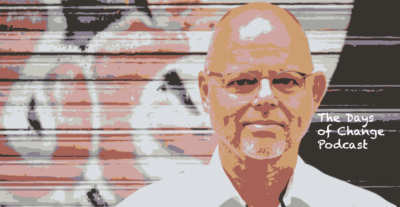 The Days of Change Podcast brings you conversations with change makers from around the world. We talk about all aspects of organisational and individual transformation and we add a personal spice by exploring the journey, which our guests have made throughout their private and professional life. The host of the show is Holger Nauheimer.
Show Notes
My week with Sarah Glenister: On how to move people through change, the mind and connectedness in virtual teams
Sarah Glenister is a psychologist from Perth, Australia. With her, I talk about how people show up at work, how they react to threats and how they can gently be influenced to do things that are good for them and the world. We continue to debate whether we as human beings have a free will and the need for connectedness in virtual teams.
My week with Brigitta Villaronga-Walker: 5 Powers, confluence, mindset & heartset and how to create containers for change
Brigitta is an extraterrestrial sent to Earth to make the planet a better place. She has served as a visionary and empathetic leader in her organisation for 15 years. With her, I spent an exciting week discussing how to create containers for loving relationships at work and for cultural change. May the force be with you!
My week with Dana Pharant: Pain, pleasure and love in change communication
Dana Pharant calls herself a badass business performance coach. She is a former dominatrix. In this episode we talk about how to calm our minds, assertiveness, persuasion, good communication, resistance to change and pain in change processes.
This is my new format: I am spending a week with extraordinary people who have to say something about change and transformation. This podcast is a summary of daily video episodes with bonus material. You will find the video versions of this conversation on my LinkedIn profile. I will continue with the longer episode of the Days of Change Podcast with monthly episodes.
Dana's website
Dana's podcast
Dana Pharant: The Inner Dominatrix Guide: Become a Badass in Business


EP27: Peter Gardiner-Harding on Theatre for Change
Peter Gardiner-Harding followed his passion and started to work as a professional actor in his thirties. Soon he discovered that he can combine his business background with the theatre experience and created a company which helps clients to change by engaging in theatre play. In the episode, we explore his approach to using carefully crafted scenarios to let his clients look into the mirror and learn from engaging in play. Holger and Peter perform a simulation, and they end this episode by some careful reflections on God.
Quote:
"I don't know that behavioural change can happen without a big dose of self-awareness around how we contribute through the way we think and the way we feel."
Peter's website: Plays that Work
EP26: Kelly Okamura on Change in the Fashion Industry and Ethical Choices
Kelly Okamura has been a change agent in the fashion industry for 30 years, and she is a systems thinker. In this episode, we first talk about a dark chapter of Canadian history and then move to an analysis of change drivers which impacted the global fashion industry in the last two decades. My guest reflects on the slow but steady pace of change before we move into the issue of ethical consumer choices. I am tested to the bones!
Quote:
"People can know but the gap between knowing and action can be quite large."
Kelly's podcast: GooderGoods
EP25: Christmas edition: Quotes and Songs of my Guests
Tune in for nine minutes of wisdom: As a special Christmas gift I have prepared a short episode with quotes of all guests of the first year of podcasting – one by each of them. So enjoy the essence of 24 conversations with great change facilitators plus the songs they sang in the show (sorry, sometimes I had to sing, too!).
EP24: Troy Yorke on the Quantum Space as a Metaphor for Change
Troy Yorke is a Renaissance man. And as such, he bridges disciplines and art forms, mixes them and produces something new. In this episode, we talk about his extraordinary life – from the Arctic Circle via the concert halls of New York and the film studios of Hollywood to a coaching institute in Paris and beyond. We talk at length about Troy's philosophy in coaching and the different levels that a coachee can access: from story to game, from dream to source. And we discuss how we can gain our resilience. This episode is an attempt to reach the source.
Quote:
"Resilience means the ability to bounce back, or the ability to return to the original state."
Troy's website: Emergent Essence Dynamics
EP23: Ute Franzen-Waschke on Intentional Listening
How to listen to connect? In this episode, Ute Franzen-Waschke and I explore together what happens in the brain when we are turning to another person. What is the "conversation cocktail" of hormones which either drives us towards or from connecting with each other? How can we stay true to our intention? In another part of this episode we discuss the issue of transparency – what do leaders need to observe it they want to form effective teams?
Quote:
"Oxytocin is flooding our brain when we listen to connect and not to judge."
Ute's website: Discover Your Choices
Don Miguel Ruiz: The Four Agreements
The work of Judith Glaser: Conversational Intelligence
Annemarie Kalis: No Intentions in the Brain
Nick Chater: The Mind Is Flat
EP22: Phoebe Tickell on the Space We Operate in
(to be published on Nov 19)
When do you have the chance to talk to a polymath? This episode with Phoebe Tickell covers so many different subjects: what is the meaning of inner space in which we find peace? Does the inner space exist at all and if so, how do we cultivate it? How is the outer space in which we work and live changing and how does it integrate with virtual space? Are Decentralised Autonomous Organisations replacing the traditional brick and mortar companies? And what is the BLACK MATTER, the "thing" between the three spaces? Is it what we need to address if we want to change organisations and the world – but we don't so so, maybe because we don't have yet a language for it?
Quote:
"What if the thing that we need to change is not in any of these inner, outer or cyberspaces – it is something else that we even don't have language for."
Phoebe's website.
Nick Chater: The Mind Is Flat
EP21: Doug Gilbert on Space as an Aspect of Change
Doug Gilbert is one of the leading teachers and researchers on change in organisations. He has a lot of experience a change practitioner in industry and as a teacher world wide. In this episode we talk about organisational leadership in general – the topic of Doug's latest book – and about space as an element of change. What do companies have to consider when they design the physical and the virtual spaces for effective collaboration? And how does inner space come into that equation? A great intro into this year's Berlin Change Days on the same theme.
Quote:
"Space has a substantial impact on whether change occurs in a meaningful way, whether it is sustained and the pace in which that change can take place."
Doug's website: Lone Tree Academics
Doug's latest book: Leading Organizations: Innovating for Performance Excellence
EP20: Simone Sloan on Confidence, Power and Voice
How do you find the voice that makes you an advocate for the things you care about? In this episode, Simone Sloan and I discuss how we can grow and become whole by developing this voice and how we use power wisely. Besides we share our love for chocolate and together we sing a Bob Marley song. The two of us can't stop laughing!
Quote:
"We have a voice that can actually make a difference because words are so powerful and what we put out into the universe, it means a lot."
Simone's website
EP19: Martine Reyners on how Singing Can Liberate the Soul
Martine Reyners is an opera singer and she is a trainer for personal development and growth. At the beginning of her career, she lost her voice and was only able to gain it back after 12 years. In this podcast, we talk about how willpower can help us to overcome the strongest obstacles and how music in general and singing in particular can help us to connect with our true self. We talk about the magic of the opera and Martine and Holger sing together. Another episode about an extraordinary walk through life.
Quote:
"We have a responsibility to search for our full potential."
Martine's website
Martine's TEDx talk
Examples of Martine's performances on Youtube
W.A. Mozart, Ch'io mi scordi di te? KV. 505. Martine Reyners, Soprano, David Baltuch, piano, Franz Liszt Orchestra (Budapest, Hungary), Norbert Nozy, conductor
Franz Lehár: Die Lustige Witwe. Martine Reyners
Intro music: Nicolo Paganini: Moto Perpetuo (from audioblocks.com)
Whiplash (Trailer)
Daniel Barenboim: Everything is Connected. The Power of Music
EP18: Barbara Zuber on the the Art of Facilitation
In this episode, we talk about the basic traits of a facilitator. What are those and what makes the art of facilitation? Barbara Zuber has developed her own system of facilitation; in the Berlin School of Facilitating, she teaches the craft and like any craft, attitude is the essence. We further explore Theory U as a fundamental model for changing systems. And we look at what the cosmology of an indigenous Peruvian tribe can teach us.
Quote:
"A facilitator is an expert, and he is an expert for the process."
School of Facilitating
Barbara's website
Theory U
EP17: Nik Beeson on Curiosity and a Life on the Road
An episode like a road movie. My guest Nik Beeson spent half of his life wondering around. He has been an environmental activist, a conservationist, a spiritual chaplain, a caretaker for the excluded, a musician, a philosopher, a poet and much more. He is now leading the field of curiosity as an important aptitude in times of disruption. In this episode we talk about his extraordinary life and how we can cultivate curiosity as a skill for organisational change. And we listen to Nik's experimental music.
Quote:
"How can you illuminate a pathway to wonder along?"
Nik's website: Curiosity Culture
Nik's music on Soundcloud
EP16: Dana Pharant on the Dominatrix' Lessons for an Executive Coach
The Days of Change Podcast goes kink: Dana calls herself a Badass Business Performance Coach and she worked as a dominatrix for 14 years. In this show, we revisit her extraordinary life. After we have explored the connection between the work of a dominatrix and that of a coach, we discuss various issues such as power, control and vulnerability. We also go deeper into coaching skills such as listening and speaking the truth. As this episode is labelled as explicit, you might not find it on all podcast apps.
Quote:
"And when we take the limits off, then we could figure out who we are and how we move in the world."
Dana's website
Dana's podcast
Dana Pharant: The Inner Dominatrix Guide: Become a Badass in Business
EP15: Jouke Kruijer on how to fuel collaboration with art
Change is complex. Even with good intentions, our rational senses are often rather blocking us from building effective collaboration patterns in teams and organisations. The application of art in change processes can help. Jouke Kruijer is both – a gifted painter and a management consultant. In this episode, we talk about what the intimacy between the artist and his model can teach us about trust and how challenges in teams can be overcome when people allow their unconscious mind to play. Jouke also claims that sometimes – in a world of uncertainty – not knowing wins over assuming and not doing sometimes is superior to doing.
Quote:
"That moment of here and now and the fleetingness of life and the way it works, and acceptance of that would be a great step forward if we would have that more in management team meetings or in strategy planning."
Jouke's website: www.joukekruijer.nl
EP14: Daryl Conner on the Essence of the Art of Change Facilitation
Treat yourself with one hour of wisdom! Daryl Conner has a legacy and he spent more than 40 years in exploring and explaining what change is about and how change can be facilitated. In this episode, we talk about the history of the change management discipline, about the conditions leaders need to provide for successful change and about the change facilitator's path to mastery. Packed full with deep insights, this is the episode that everybody involved in transformational processes should listen to.
Quote:
"The only way to find out if people resonate with who you are is you have to be who you really are."
Conner Partners
Conner Academy
Daryl Conner: Managing at the Speed of Change
Episode 13: Mary Alice Arthur on the Power of Stories and the Art of Hosting
Mary Alice Arthur is leading the field in two disciplines, or shall I say in two forms of art: The Art of Storytelling and the Art of Hosting. In our new episode, she talks about the legacy of the two approaches and how they can help to transform the stories that we tell ourselves, and ultimately the world. How to we bring innovation to societies and organisations and how to we work on our own practice? Mary Alice is a strong voice against indifference and for helping to design the future that we all dream of.
Quote:
"Two people can use the same tool, but one of them might have dramatically different results because of their personal practice that brings a level of presence to them."
Mary Alice's websites:
Get Soaring
Story of the Future
Mary Alice's TED talk
Mary Alice's workshop at the Berlin Change Days 2019:
Hosting Brave and Transformative Spaces
Book:
Momo by Michael Ende
Mary Alice's songs:
John Farnham: You're the voice
Sara Bareilles: Brave
Episode 12: Sue Knight on humour, coaching and productive work teams
Sue Knight is the mastress of coaching with humour and she is a great teacher on personnel development and change. In this episode we chat about Frank Farrelly, the founder of provocative coaching and how Sue has integrated his teachings into her own work. Holger gets coached live and trips into several potholes. We reflect on the presuppositions of Neuro-Linguistic Programming and reflect on how a coach can support effective work teams. This is the episode with the most laughter so far but also with deep insights about how we can get better at what we do.
Quote:
"If you are aware of what you are doing – if you know what you are doing, you can do what you want."
Sue's website
Sue Knight: NLP at Work
Episode 11: Julie Diamond on Power, Activism and Leadership
Julie Diamond is one of the world's best experts on the issue of power. Holger talks with her about whether power corrupts and how power can become a resource for better leadership. We debate whether women lead differently than men and whether political activists have an insight into their own changeability. Finally, we discuss what happens with power when organisations introduce flatter hierarchies.
Quote: 
"I don't equate disbursed power or power in the hands of many or flat structures with a better use of power."
Julie's website: Diamond Leadership
Julie's blog posts on Medium
Julie Diamond: Power – A User's Guide
Books:
J.D. Salinger: The Catcher in the Rye (PDF)
Noam Chomsky: Syntactic Structures (PDF)
C.G. Jung: Memories, Dreams, Reflections (Internet Archive)
Paul Watzlawick: Pragmatics of Human Communication
Gregory Bateson: Steps to An Ecology of Mind
Julie's songs:
Gladys Knight: Midnight Train to Georgia
Bonnie Raitt: Angel from Montgomery
Lauryn Hill: Can't Take My Eyes Off of You
Joni Mitchell: California
Episode 10: Daniel Sigrist on Changing Roles and Rules in Organisations
With Daniel Sigrist, we talk about the future of organisations and we debunk some big concepts such as holacracy and sociocracy which propose a new form of governance beyond traditional hierarchies. What are the underlying principles that might change the way we think organisation? Daniel and Holger play around with some new ways of fast and decentralised decision making. And we hear some music of a Swiss singer songwriter.
Quote:
"You can't go further with value based leadership or authentic leadership, still being in this pyramid power structure."
Daniel's website
Book:
Charles Eisenstein: The More Beautiful World Our Heart Knows is Possible
Daniel's songs (for the playlist):
Bright Eyes – Old Soul Song
Big Thief – Shark Smile
The Beatles – Getting Better
Daniel's (own) songs: Starlight Through the Rain
Episode 9: Belina Raffy on How Applied Improv Can Save the World
What an episode! Belina Raffy is the Queen of Applied Improv. We talk about the power of metaphors in organisational development, how intentional choice of language makes a huge difference to personal relationships and collaboration in teams, and how a positive attitude and kindness can make a huge difference to the world. Belina and Holger play some applied improv games and have a lot of fun! And you will also hear about the experiences of an agent of joy in Iran.
Quote:
"The things are beautiful now, so be present in the beauty that's here."
Belina's website
Book:
Gareth Morgan: Images of Organization
Belina's songs:
4 Non Blondes: What's Up?
Macy Gray: Beauty in the world
The Beatles: Let it be
Episode 8: Sandeep Aujla on Cultural Change in Organisations
What's organisational culture? What happens to the company culture in times of crisis? Who is actually driving change? Can (and should) HR departments have a a leading role in transformation processes or did they loose their momentum? And if so, how does HR need to change? Sandeep Aujla, a change management expert from Toronto, has answers to these questions and summarises what's important in change processes. Plus a reflection on how we can tame our anger.
Quote:
"When things are not going as you have planned, don't let your ego stand in the way because no one person knows what change should look like, can look like, how it can happen."
Sandeep's website: Multilevel Leadership
Book:
Harriet Lerner: The Dance of Anger: A Woman's Guide to Changing the Patterns of Intimate Relationships
Sandeep's songs:
Rascal Flatts: Bless the broken road
Rag'n'Bone Man: Human
Frank Sinatra: My way
Intro music:
Ruben Kaplan: Indian Journey
Episode 7: Eugenio Moliní on Love and Pain in Change Processes
There are few people who dig deeper into the foundations of the change facilitator's profession than Eugenio Moliní. In this episode, he talks with Holger about the difference between reducing pain and increasing joy in organisational development, why love might be the ultimate change model and how that relates to corporate strategies. Further, he explains the concept of fuzzy enmeshed systems and reflects on the path to mastery.
Quote:
"The capacity to look into each other's eyes and to recognize the greatness and the misery of the common humanity has strategic consequences for the business."
Resources mentioned in the episode:
Eugenio's website
Barbara Ehrenreich: Smile or Die
Book:
Henri J.M. Nouwen: The Inner Voice of Love: A Journey Through Anguish to Freedom
Eugenio's songs:
Arvo Pärt: Spiegel im Spiegel
The Doors: The End
U2 + Harlem Gospel Choir: I Still Haven't Found What I am Looking For
Intro music:
Stift Heiligenkreuz: Chant – Music for Paradise
Episode 6: Lauren Waldman on How the Brain Learns
Lauren Waldman is the Learning Pirate. In this episode we talk about how companies can use the findings of modern neuro-scientific research to enhance learning & development. We discuss the difference between learning and training and how corporate learning strategies must change in order to provide an environment in which their employees can grow. And of course you won't miss stories about pirates! Yarr!
Quote:
"We are meant to be learners and we can do way better than we are doing because our brains have the capacity to do it."
Resources mentioned in the episode:
Lauren Waldman: The Learning Pirate
Book:
Lewis Carroll: Alice's Adventures in Wonderland (PDF)
Lauren's songs:
Robbie Williams: Let me Entertain You
Gene Wilder: Pure Imagination (Willy Wonka)
David Guetta: Titanium
Intro music:
The Buccaneer's Haul by Shane Ivers
Episode 5: The Church of Change – Sander and Stephan Ummelen on Values and Identity
Sander and Stephan Ummelen are determined to bring values to organisations and the society. For that, they founded the Church of Change and registered it as an official entity in the Netherlands. In this episode, we talk about beliefs and why they matter for any transformative process, and about the brothers' ACID test for corporate identity. Further we discuss whether Friedrich Nietzsche described the journey of a change agent.
Quote:
"If you have people in your company who don't believe in your values, you're gonna be in trouble."
Resources mentioned in the episode:
The Church of Change
Gillette ad on toxic masculinity
Books:
Friedrich Nietzsche: Thus Spoke Zarathustra, PDF (English) (German)
George Orwell: 1984
Sander's songs:
Thrice: Of Dust and Nations
Klein Orkest: Ballade van de Dood
Radiohead: House of Cards
Stephan's songs:
Bad Religion: Better off dead
Me, myself & I: G-eazy
Richard Strauss: Sonnenaufgang
Sound and Music used in the episode:
Church bells of the Dome of Paderborn: WDR Archives
Richard Strauss: Sonnenaufgang (Creative Commons license by Kevin MacLeod)
Episode 4: Rich Batchelor on the Core of Change Management
Rich and Holger talk about what is change and how change management has changed over the last decades. One of the suggested aspects of modern change management is the engagement of true change agents. They look into the future of the discipline and you can hear Rich sing the Welsh anthem.
Quote:
"There is only three things you can rely on in life: death, taxes and change."
Resources mentioned in the episode:
Capillary Consulting: Rich's webpage and blog
Books:
Zlata's Diary
Peter Senge: The Fifth Discipline
Rich's Songs:
Mae Hen Wlad Fy Nhadau
Nero: Promises
Strictly Ballroom: Love is in the Air
Episode 3: Jillian Reilly on Finding Your Own Path
In this episode, Jillian Reilly talks about how to thrive in the wilderness by connecting to one's true self. Starting as an aid worker in South Africa and Zimbabwe at the age of 23, she has gone through a long transformation process herself which helped her to continually grow and becoming the inspiring person which she is. A very personal and touching episode.
Quote:
"I think we need opportunities to connect as real humans."
Resources mentioned in the episode:
Antacara: Jillian's new project for explorers, seekers and foragers of possibility.
Books:
Jillian Reilly: Shame – Confessions of an Aid Worker in Africa
Julia Cameron: The Artist's Way
Jillian's Songs:
Alanis Morisette: You Oughta Know
Aretha Franklin: Respect
Patti LaBelle: Lady Marmalade
Episode 2: Céline Schillinger on Engagement and Community
In this Episode, Céline Schillinger who worked as a manager in a multinational company talks about how leadership must change in order to create ownership and engagement. From her own experience, she draws lessons that everybody can apply who wants to change the way we work and the world of organisations.
Quote:
"People don't accept being told anymore.."
Resources mentioned in the episode:
We Need Social: Céline's hompage with more background on the subject
Focus on your purpose and everything changes (Forbes article)
Books:
Peter Block: Community – the Structure of Belonging
Céline's Songs:
Depeche Mode: Where's the Revolution
Wankelmut: My Head is a Jungle
Mathieu Koss: Best is yet to Come
Episode 1: Rik Berbé on Complexity and Leadership
Holger and Rik talk about why organisations need to embrace VUCA (volatility, uncertainty, complexity and ambiguity) to master the challenges of the future. Some remarks on what architecture and design has in common with facilitation. Rik suggests that you test your complexity and uncertainty skills at home.
Quote:
"If you want to solve a complex problem, it is very valuable to have people in the room with different perspectives."
Resources mentioned in the episode:
Glocom Net: The world of social complexity and uncertainty
Cynefin model: A conceptual framework used to aid decision making
Books:
Danah Zohar: Rewiring the Corporate Brain
Kaye Remington & Julien Pollack: Tools for Complex Projects
Rik's songs:
Kellerkind: Disco on the Dancefloor
KlangTherapeuten: Perlentaucher
Mark Lower: Bad Boys Cry
Download our famous Buzzword Bingo on Digital Transformation
The image at the top is licensed from Shutterstock. Copyright applies.