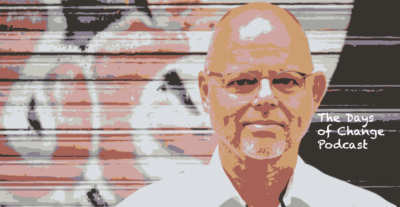 The Days of Change Podcast brings you conversations with change makers from around the world. We talk about all aspects of organisational and individual transformation and we add a personal spice by exploring the journey, which our guests have made throughout their private and professional life. The host of the show is Holger Nauheimer.
Show Notes
Download our famous Buzzword Bingo on Digital Transformation
Episode 5: The Church of Change (Sander and Stephan Ummelen)
Sander and Stephan Ummelen are determined to bring values to organisations and the society. For that, they founded the Church of Change and registered it as an official entity in the Netherlands. In this episode, we talk about beliefs and why they matter for any transformative process, and about the brothers' ACID test for corporate identity. Further we discuss whether Friedrich Nietzsche described the journey of a change agent.
Quote:
"If you have people in your company who don't believe in your values, you're gonna be in trouble."
Resources mentioned in the episode:
The Church of Change
Gillette ad on toxic masculinity
Books:
Friedrich Nietzsche: Thus Spoke Zarathustra, PDF (English) (German)
George Orwell: 1984
Sander's songs:
Thrice: Of Dust and Nations
Klein Orkest: Ballade van de Dood
Radiohead: House of Cards
Stephan's songs:
Bad Religion: Better off dead
Me, myself & I: G-eazy
Richard Strauss: Sonnenaufgang
Sound and Music used in the episode:
Church bells of the Dome of Paderborn: WDR Archives
Richard Strauss: Sonnenaufgang (Creative Commons license by Kevin MacLeod)
Episode 4: Rich Batchelor on the Core of Change Management
Rich and Holger talk about what is change and how change management has changed over the last decades. One of the suggested aspects of modern change management is the engagement of true change agents. They look into the future of the discipline and you can hear Rich sing the Welsh anthem.
Quote:
"There is only three things you can rely on in life: death, taxes and change."
Resources mentioned in the episode:
Capillary Consulting: Rich's webpage and blog
Books:
Zlata's Diary
Peter Senge: The Fifth Discipline
Rich's Songs:
Mae Hen Wlad Fy Nhadau
Nero: Promises
Strictly Ballroom: Love is in the Air
Episode 3: Jillian Reilly on Finding Your Own Path
In this episode, Jillian Reilly talks about how to thrive in the wilderness by connecting to one's true self. Starting as an aid worker in South Africa and Zimbabwe at the age of 23, she has gone through a long transformation process herself which helped her to continually grow and becoming the inspiring person which she is. A very personal and touching episode.
Quote:
"I think we need opportunities to connect as real humans."
Resources mentioned in the episode:
Antacara: Jillian's new project for explorers, seekers and foragers of possibility.
Books:
Jillian Reilly: Shame – Confessions of an Aid Worker in Africa
Julia Cameron: The Artist's Way
Jillian's Songs:
Alanis Morisette: You Oughta Know
Aretha Franklin: Respect
Patti LaBelle: Lady Marmalade
Episode 2: Céline Schillinger on Engagement and Community
In this Episode, Céline Schillinger who worked as a manager in a multinational company talks about how leadership must change in order to create ownership and engagement. From her own experience, she draws lessons that everybody can apply who wants to change the way we work and the world of organisations.
Quote:
"People don't accept being told anymore.."
Resources mentioned in the episode:
We Need Social: Céline's hompage with more background on the subject
Focus on your purpose and everything changes (Forbes article)
Books:
Peter Block: Community – the Structure of Belonging
Céline's Songs:
Depeche Mode: Where's the Revolution
Wankelmut: My Head is a Jungle
Mathieu Koss: Best is yet to Come
Episode 1: Rik Berbé on Complexity and Leadership
Holger and Rik talk about why organisations need to embrace VUCA (volatility, uncertainty, complexity and ambiguity) to master the challenges of the future. Some remarks on what architecture and design has in common with facilitation. Rik suggests that you test your complexity and uncertainty skills at home.
Quote:
"If you want to solve a complex problem, it is very valuable to have people in the room with different perspectives."
Resources mentioned in the episode:
Glocom Net: The world of social complexity and uncertainty
Cynefin model: A conceptual framework used to aid decision making
Books:
Danah Zohar: Rewiring the Corporate Brain
Kaye Remington & Julien Pollack: Tools for Complex Projects
Rik's songs:
Kellerkind: Disco on the Dancefloor
KlangTherapeuten: Perlentaucher
Mark Lower: Bad Boys Cry
The image at the top is are licensed from Shutterstock. Copyright applies.